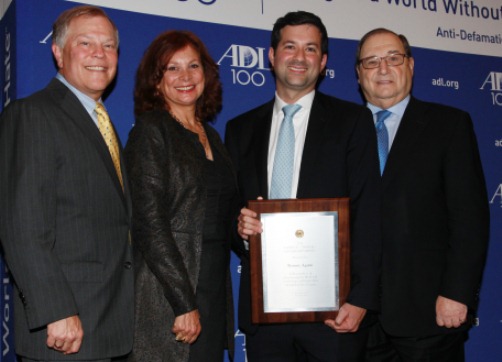 The Anti-Defamation League (ADL) has announced that Ronnie Agami of Atlanta is one of the recipients of the 2013 Daniel R. Ginsberg Leadership Award, recognizing outstanding young professionals for their leadership in the fight against anti-Semitism, racism and all forms of prejudice. The annual award presentation was held November 1 at the League's 2013 Annual Meeting in New York City.
Ronnie Agami is a principal in Universal Diamond Corp, a wholesale diamond business that sells loose diamonds across the United States. He is a member of the board of the ADL Southeast Region and is a graduate of the ADL Glass Leadership Institute (GLI) of 2011. Ronnie serves on the ADL Leadership Development and International Affairs Committees and is co-chair of the GLI Subcommittee. Ronnie also serves on the board of Atlanta Scholars Kollel and is a participant in the AIPAC-National Leadership Network.
"Volunteering with ADL, I really feel like I am a part of the ADL family and can play a small part doing more than just what's right with an organization that stands up for everyone that can't stand up for themselves," said Ronnie in accepting his award.
"Ronnie exemplifies the next generation of leadership for the ADL. His commitment of time and energy has already greatly contributed to the success of the League's mission of fighting anti-Semitism and prejudice in all forms here in the Southeast Region," stated Michael Merlin, ADL Southeast Region Chair.
Since 1995, ADL has conferred the Daniel Ginsberg Leadership Award to outstanding candidates from around the country who demonstrate knowledge of, and working commitment to the policies and activities of ADL, as well as those who have the ability to add to the League's deliberations at the national level. The award, named in honor of the late Daniel R. Ginsberg, a former New York Regional Board Chairman and ADL National Commissioner, is generously endowed by his friends and family.
Other winners of the 2013 ADL Daniel R. Ginsberg Leadership Award are Robert Friedman, Washington, DC; George Gibson of Houston;  Jamie Golden of Boston;  and Rob Velevis of Dallas.
Past winners of the Ginsberg Award from Atlanta include Uri Vaknin, Matt Brill, Liz Price, Samantha Weidenbaum, Marty Sonenshine and Michael Merlin.
The Anti-Defamation League, founded in 1913, is the world's leading organization fighting anti-Semitism through programs and services that counteract hatred, prejudice and bigotry.