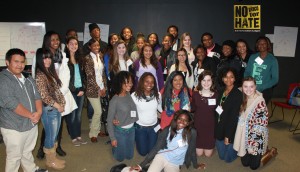 The 2014 Empowering Young Leaders: No Place for Hate® Summit was held on the Martin Luther King Jr. Holiday on January 20. 150 students from sixteen high schools gathered at the Woodruff Arts Center for the program this year. This is the thirteenth year we have hosted this program and this year was another success as we continued our partnership with the Alliance Theatre and the Woodruff Arts Center and included a theatrical performance as part of the program.
Most of the schools that participated are part of our region's No Place for Hate® program. The focus of the Summit is to educate the students about the importance of being an ally and how one person can make a difference. Each delegation consists of racially, religiously and ethnically diverse high school students who have a commitment to improving inter-group understanding. One of our goals is to inspire these students to become leaders in their schools in identifying and implementing ways to address these issues.
Our partnership with The Alliance Theatre adds a significant element to the program. As part of the Alliance Theatre's "Collision Project" high school students created, with playwright Pearl Cleage and the staff of the Alliance Theater, an original play "For Dr. King at 85" in which the students explored Dr. King's legacy and how one individual's life can make a difference. The themes of the play tie in closely with Dr. King's message of equality and inclusion. This play was performed as part of the Summit this year and students strongly related to the performance. Students also participated in interactive activities to get to know each other, to learn about what it takes to be a leader, and to develop a plan to make it a reality.
The schools participating this year included public, private and parochial schools, alternative high schools and brought 5 new schools into the program. The schools were from all over the metro-Atlanta region and Macon and included Cedar Grove High School, Dutchtown High School, Heritage High School, Holy Innocents Episcopal School, Lanier High School, Lovejoy High School, Marist School, Miller Grove High School, Norcross High School, Open Campus Rockdale County, Rockdale Career Academy, Rockdale County High School, Salem High School, Stratford Academy, Tri-Cities High School and Woodward Academy.
The program was underwritten by the Georgia Power Foundation, who has funded the program for the past seven years. Members of the Lynne & Howard Halpern Atlanta National Youth Leadership Delegation led the icebreaker activities and breakout sessions, introduced speakers and served as role models for the other students. Their excitement and investment in the program helped make it a success with all the students. The caliber of students who participated in the program was phenomenal.
In answer to the question "What did you find most meaningful about the Youth Summit?" some of the responses included:
Having a nonjudgmental place to openly discuss what it takes to be a leader
Having the opportunity to engage in meaningful conversation with other people
It was empowering getting students to learn that it is okay to be different and start a movement of helping others learn how to lead

I learned that no matter who you are, many different people from different backgrounds can come together and come up with several, helpful ideas
It was good to talk about serious things that need to be changed in society
Words are more than words; they can become your actions and they hurt
Learning and meeting other people who have common interests like me
All in all another great success!